Regulations
REGULATIONS
√ Opening time: 07:00 – 19:30/ 365 days.
√ Service price includes: 10% VAT; 05% service charge and travel insurance.
√ Bills are only issued on the day, if you want to get the bill, please notify the staff in advance when purchasing the service.
√ Child's height: from 1m - 1,4m need to bath with adults.
√ Serving time: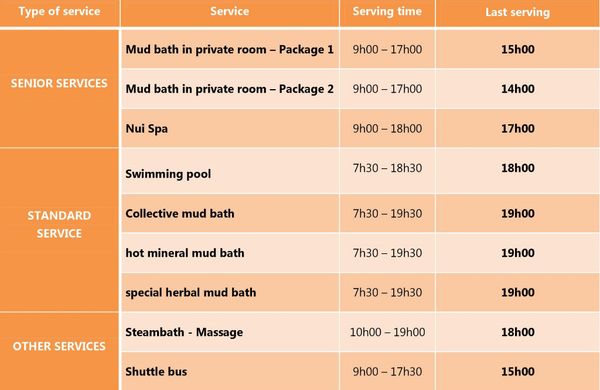 √ Other regulations:
Swimsuit are allowed to use: swimming costumes or sleeveless shirts- shorts

Bath material is not allowed: jean and wool.

Pets: not allowed to bring into Thap Ba Nha Trang Mud Bath.

Smoking: Smoking is not allowed during bathing. Thap Ba Mud Bath has own smoking area to avoid affecting other customers.

Hygiene: do not litter.

Landscape: do not pick flowers and step on the grass.
RECOMMENDATIONS
Time for soak in mineral mud: from 15-20 minutes.
Time for soak in hot mineral water: from 30-35 minutes.
Depth of adult's warm mineral pool: 1.45meter.
Depth of adult's cool mineral pool: 1.1m - 1.5meter.
Depth of children's pool: 0.8meter.
You can not swim: need to use buoys or life jackets (free).

People with heart disease, high blood pressure: should soak about 10 minutes, then take a rest for 5 minutes.

Should drink about 350 ml of water and eat snack after soaking.

Alcohol, beer and other stimulants should not be taken during the time of soaking.

Do not jump head down into the pool.

Do not bath again with soap after soaking.