Collective mud bath
Serving time: 07:00 – 19:00.
Receiving time for the last guests: 19:00.
Services included:
Soak in cool mineral mud(15mins)
Soak in hot mineral water(30 mins).

Take hydrotherapy , jacuzzi.

Use services of hot mineral swimming pool.

Free 01 bottle of Lavie mineral water 350ml.
Prices:

Services price included VAT, please inform if you need to issue VAT invoice.

Hotline: (0258) 38 37 205 - 0983 731 841.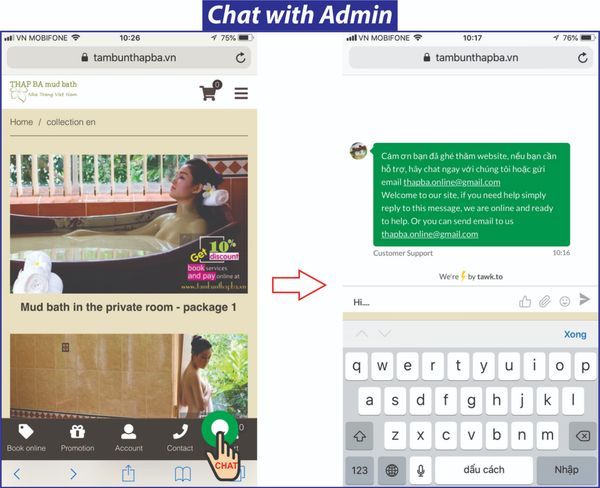 Collective mud bath
Children have to go with adults.

Children are under 1 meter wii be free.

Children are over 1.4 meter need to buy adult tickets.

Costumes are allowed to wear when bathing in Thap Ba Mud Bath are swimsuit or short and sleeveless shirt ( jean and wool material are not allowed)

People with heart disease, high blood pressure: should soak about 10 minutes, then take a rest for 5 minutes.

Alcohol, beer and other stimulants should not be taken during the time of soaking.

Do not jump head down into the pool.
Online tickets are effective after you receive a confirmation email of successful booking.
Tickets are used once and are valid until 31th, December, 2019.
You can use the ticket on any day, including holidays and Tet without reservation (Please arrive before 18:00)
Instructions for using online tickets:
You will receive a confirmation email, with your order code when you complete the booking.
Please show the confirmation email or tell the ticket sellers the order code to be served.
After completing the payment in advance , your order code is confirmed to be effective, however, when the code hasn't used yet, you can cancel
Cancellation time: anytime since payment is successful to before 31th, december, 2019

Cancellation fee: 10% of the amount you have paid.

Time for refund : within 3 days of successful cancellation

Please contact hotline 0258 3837205 ( working hours) or 0983731841 (out of working hours) to be guided how to cancel the services.
Collective mud bath (From January 1st, 2020)